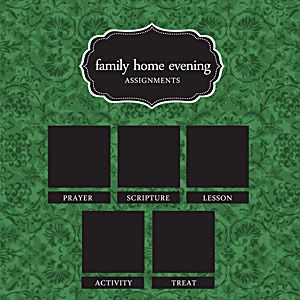 Directions:


1. Click on chart with the number of members in your family for download. Follow directions and download to your computer.
2. Crop black and white photos of your family to 2.5" squares (for 4, 5 and 6 member families) and 2.25" squares (for 7 and 8 member families).
3. Print chart as a 12x12" photo at your local Costco 1 hr photo (for $2.99) or online at Scrapbookpictures.com (for $1.99 + shipping) . You must have a Costco membership to use their photo services.
4. Take printed chart and photo squares to be laminated at your local copy center.
5. Punch holes in top of chart and tie ribbon through to hang on wall.
6. Affix photos to chart with blue poster tack. Rotate each week as needed.